Maximising Value of Existing Assets Through Innovative Well Solutions
By Jonny Haugen - October 08, 2023
Maximising value of existing assets through innovative well integrity, intervention and workover solutions - Abstract from Brunei Shell Petroleum (BSP) and Wellcem´s presentation at the SPE Workshop
September 26-27, Miri, Sarawak, Malaysia
BSP and Wellcem recently showcased its ground-breaking solution at the Society of Petroleum Engineers (SPE) Conference in Malaysia. The solution aims to maximise the value of existing assets in mature oil fields across the South China Sea with an initial focus on Brunei and Malaysia, where oil was discovered even before Norway had started its explorations. The region, endowed with numerous small unmanned and ageing platforms, faces substantial challenges, including limited infrastructure, narrow spaces, and many leaking wells.
For those present at the conference, thank you for your time and engagement. Should you have missed the SPE Conference, we invite you to read our write-up to glean knowledge on how efficient and customizable delivery solutions on remote platforms can be done.
A Tailored Solution for Ubiquitous Challenges
In regions like Brunei and Malaysia, operators often grapple with the issues of limited space and ageing infrastructure. Platforms are small, unmanned, and the opportunities for equipment placement are scant. Typical solutions would involve a large support vessel to be connected to the platform to perform desired services.
Wellcem's innovation is a direct response to these challenges, offering a dedicated solution that enables efficient equipment placement and service delivery while addressing space and weight related issues on small, unmanned platforms.


Enhanced Operational Efficiency and Cost Savings for Operators
The solution presented at the SPE conference focused on utilising resin-based technology to rectify wells with integrity problems. This technology eliminates the need for a workover rig and employs a gravity feeding technique to restore annulus integrity in multiple wells. Notably, these wells are stationed on small, unmanned platforms with restricted space, and vessels were attached to these platforms to execute the resin operation.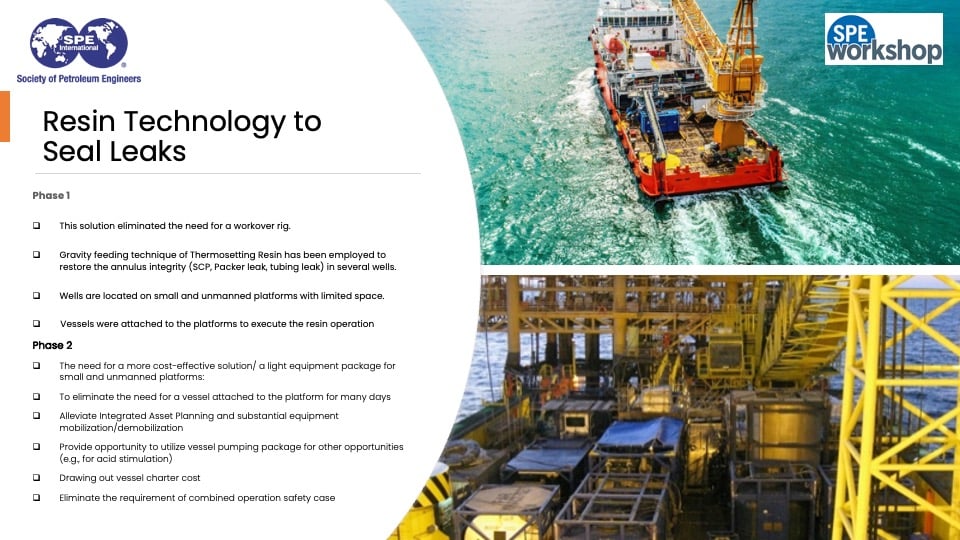 Wellcem's innovation strives for a more cost-effective solution by developing a lightweight equipment package that alleviates substantial equipment mobilization/demobilization, requires minimal manpower to operate and minimises the necessity of a large intervention vessel.
It is designed be lifted on to the platform and left there (stand-alone), to execute operations independently, mitigating weather-induced delays and reducing operational costs significantly. In comparative terms, the use of this lightweight intervention system instead of a vessel resulted in a notable 70% saving in operational costs.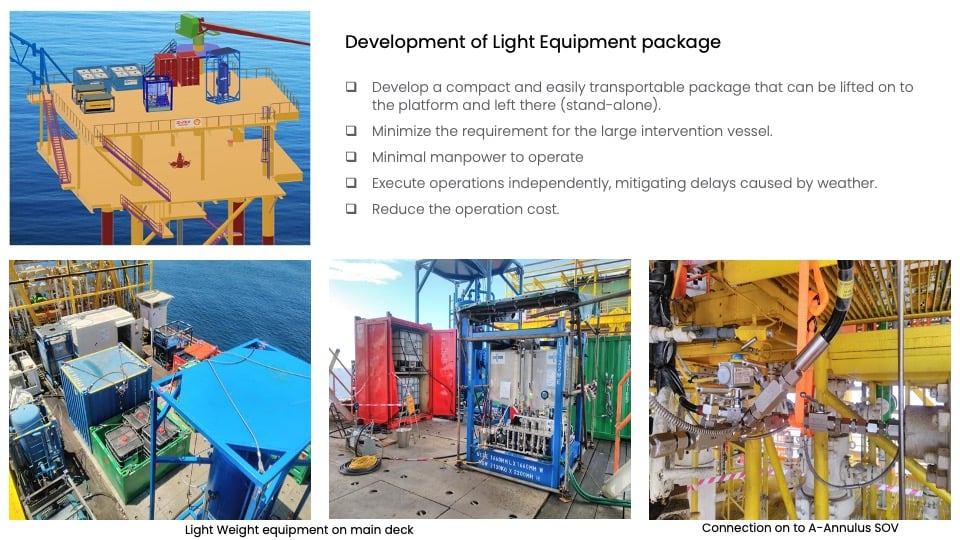 Increased Operational Continuity and Safety
Beyond cost-effectiveness, the solution offer the possibility of running continuous operations through double crewing, enabling operations over 12 hours. Moreover, the minimization of personnel exposure in operations contributes to heightened safety, ensuring the well-being of the crew involved, which is vital for any operator in the field.
Sustainable Operations and Risk Mitigation
Minimizing the dependency on ships leads to better utilisation of resources and ensures sustainability. The ecological balance achieved through optimized resource allocation coupled with the reduction in operational risks provides a dual advantage for operators, allowing them to align their operational strategies with environmental conservation while ensuring the safety of personnel.
A Prototype for Future Efficiency
Wellcem's prototype is not a static solution; it's an evolving concept, aiming to accommodate to the future needs of the industry. The adaptability of the solution, along with potential for future enhancements suggests even more efficient concepts in the future.
These improvements are geared towards promptly addressing unexpected leakages and catering to the expanding requirements of operators on small, unmanned platform with mature wells.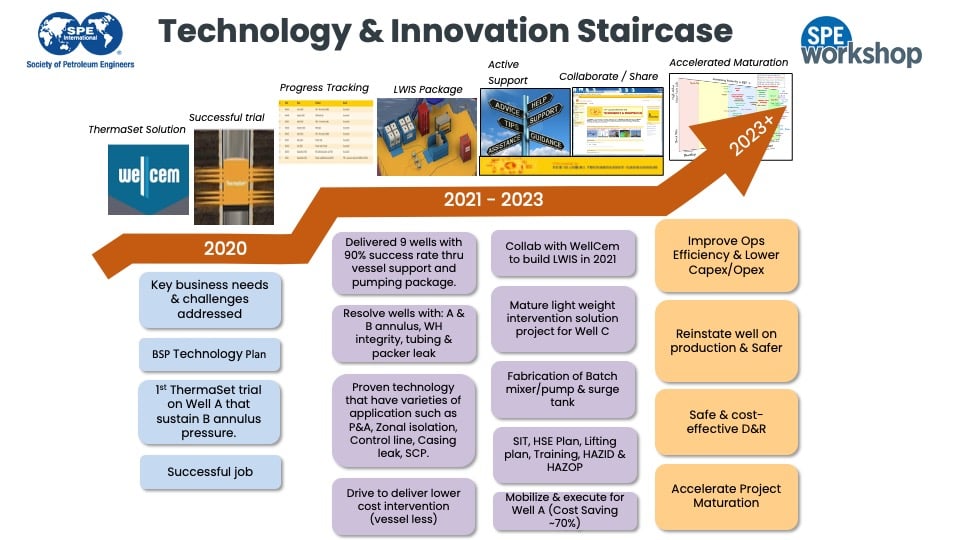 Prioritizing the Repair of Aging Wells
The urgency of maintaining and repairing existing wells is a significant concern for operators focusing on enhancing production. Wellcem's approach provides a strategic advantage in addressing these urgent necessities and maintaining well integrity, enabling operators to balance production goals with essential repair and maintenance activities.
Conclusion
The solution provided by Wellcem are paving the way for revolutionary changes in well integrity intervention, and workover solutions. The company's innovative approach, demonstrated at SPE Malaysia, can provide valuable solutions to operators working in the unique environments of small, unmanned platforms and aging wells.
By addressing the challenges and seizing the opportunities inherent to the industry, the door opens to not just provide solutions but also actively shape and influence the future of well intervention and integrity solutions, allowing operators to realize their operational objectives with enhanced efficiency, substantial cost-savings, advanced safety measures and sustainability.
In every drop of oil, there's a world of opportunities.
Maximize yours with Wellcem.
Do you have any questions? Get in touch with us today, we look forward to answering.